Braintree Art Gallery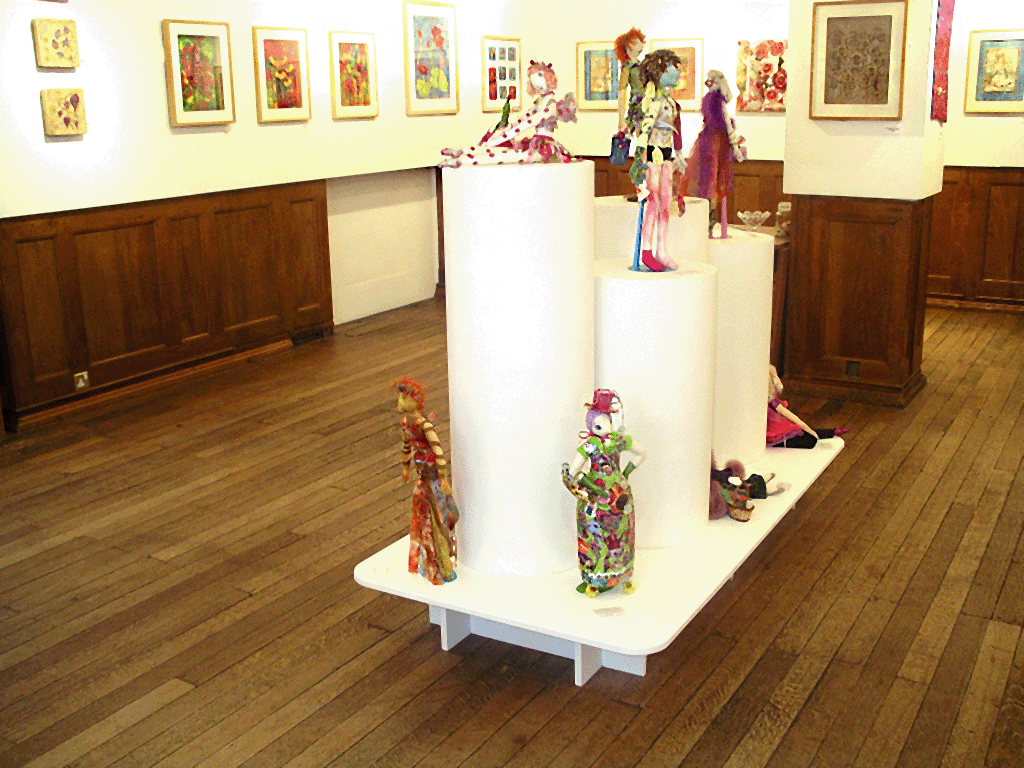 Please click on the photo of the "dolls" below to see images of each of the dolls.
In the autumn of 2004 02Textiles held their first exhibition in the Art Gallery of the Braintree Town Hall Centre. The show featured four pieces of art work from each of the OTT members, plus each member also made a "doll" representing another member of the group.
In 2003 at the Knitting and Stitching show there was an opportunity to take a pattern to make a doll for a competition. Karen and Dot suggested that it might be fun for all of the OTT group to make a doll. To make it more of a challenge, we put our names in sealed envelopes and then had to withdraw an envelope and to make a doll representing the named person.
We kept our names secret, so nobody knew who was making who. The idea was to pick out the characteristics, foibles and interests of the person. Needless to say, this created much frivolity and silly questioning.
Chris Bonnett chose last, and received her own name and got round it by asking her grandchildren what she was 'really' like. She got answers such as"I think Grandma has eyes in the back of her head". It all resulted in a great deal of fun as we, on a given day, had to guess who was who. We are now the proud owners of our selves.
The results of the Doll making were the centrepiece of the exhibition, which receive much acclaim. One young male visitor's comment was " bloody marvellous!!!"
The show was a great success.
Please click on the Photo of the Gallery below to see images of the exhibition pieces