OTT - The 02 Textile Group
In 2002, twelve students who, under the tutelage of Ann Brown, had studied City & Guilds Creative Embroidery, formed OTT (02Textiles) . The aims of the group are to support each other in the personal development of their embroidery and textile art skills, to promote embroidery, and to form an exhibiting group.
In the autumn of 2004, OTT held their first exhibition in the art gallery of the Braintree Town Hall. The exhibition was a great success and was extremely well received by all who attended it.
Since then the group has continued to work on new projects and has been invited to display its work in other local galleries, returning to Braintree for another highly successful exhibition in the Autumn of 2006 and 2008.
In February 2007, OTT was invited to exhibit at the Cottenham "Textiles in Focus" event and displayed work in other locations through 2007 and beyond.
There have been changes to the membership of the group. Norah Stocker left the group as her circumstances had changed, and Janet McKee, who had joined the group soon after it was set up, left the group in late 2006 and runs workshops at Marks Tey. Rita Johnson and Tabatha Mitchel-Simons joined the group after OTT's 2008 exhibition in Braintree, followed by Elizabeth Taylor in January 2010. Sadly, Irene Martin passed away in 2011 and Zoe Cox died after a very short illness early in 2015 - they will both be missed greatly by all the Group. Finally, Liz Nicholls left the group in mid 2017 prompting openings for new members.
In December 2017, O.T.T. welcomed Jane Roskrow, Sharne Gregory, Yvonne Romain and Sheila Warner to the group.
Details of the next exhibition and the last few OTT exhibitions and events are shown in the "Latest News" panel on the right

Forthcoming and recent exhibitions can be found by "clicking" on the "News" button above.

Information and examples of the work displayed at past exhibitions can be found by "clicking" on the "Exhibitions" button above.

CVs of the artists and examples of some of their work can be found by "clicking" on the "Members" button above, or the work can be accessed directly by "clicking" on the "Art Work" button.

If you wish to comment on any of the contents of this web site, or want to contact the Group, then please "click" on the "Contact Us" button.
Social Media
---
Latest News
"Hyde and Seek" - Hyde Hall 2020
In line with the most recent Government directive Hyde Hall gardens have notified us that OTT's next major exhibition has had to be cancelled. It was to have been held at Hyde Hall on June 20th to 28th, 2020.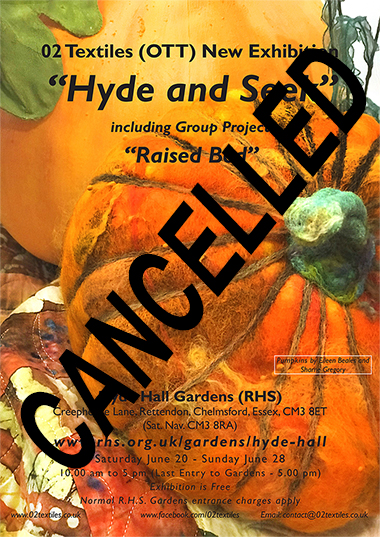 ---
02 Textiles also returns to the Welsh Quilt Centre in the centre of Lampeter for a further exhibition.
"Down the Garden"
or
"Lawr yr Ardd"
Quilt Centre,The Old Town Hall, High Street, Lampeter, SA48 7BB
Opening September 8, 2020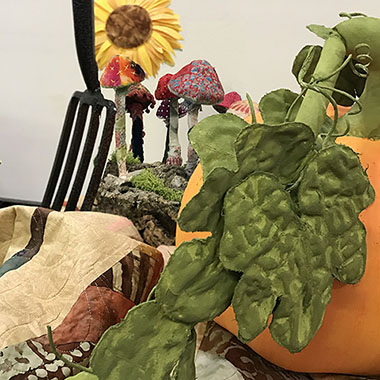 ---
Ramster Embroidery & Textile Art Exhibition 2019

The Biennial Exhibition took place again this year - 16th – 31st March 2019.
10.00 a.m. to 5.00 p.m.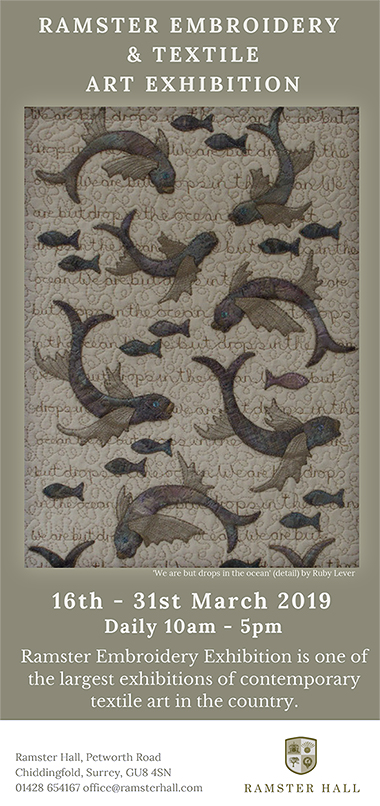 Once again this delightful and exciting exhibition showcased over 200 works of Embroidery and Textile Art, created by many of the country's leading textile artists, to celebrate the art of the stitch.
Almost all of 02Textiles' members were invited to exhibit here.
Please click here to visit the Ramster Gardens website.
Tickets: Exhibition only - £6.50
Comined Exhibition & Gardens - £13.00
Location - Ramster, Chiddingfold, Surrey, GU8 4SN
---
Scraps of Encouragement - Hyde Hall 2018
OTT's previous exhibition was held at Hyde Hall on September 22nd to 30th, 2018.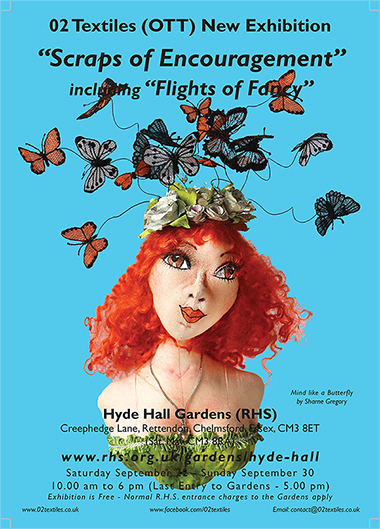 Apart from the main exhibition, each member of the group worked on a group project to produce work on a common theme which for this exhibition was Flights of Fancy
The exhibition included a shop area selling cards, portfolio pieces, brooches, necklaces and much more.
Some of the artists were also on hand each day to answer any questions.
Booking was not required.
---